08/07/14
Ottobock launches fitness app for amputees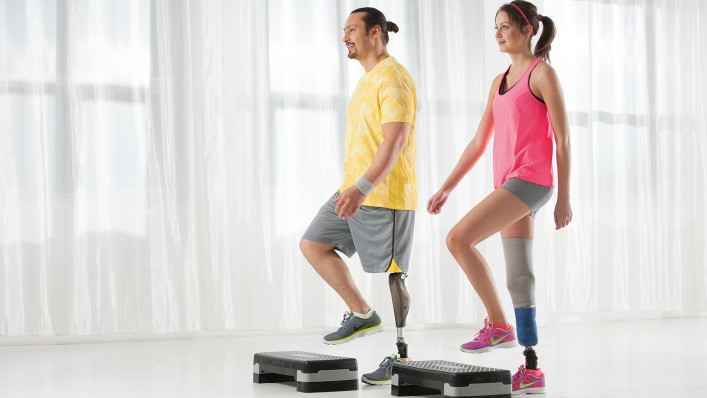 A new app for amputees has been launched from prosthetic and rehabilitation experts, Ottobock. Fitness for amputees comprises 16 fitness and rehabilitation exercises for lower-limb amputees. The exercises have been designed by Ottobock's leading physiotherapist and are easy to follow, with videos and guides to ensure users get the most from their rehabilitation and exercise.
While the app cannot replace a professional course of therapy, the exercises are designed to help maintain fitness for amputees. The two sets of eight exercises cover strength & endurance and coordination & balance. Strength & endurance exercises are designed to strengthen the upper body muscles and so stabilise the spine and improve gait, while the coordination & balance exercises demonstrate how to stand securely on a prosthetic leg, resulting in greater comfort for the patient and a more natural way of moving.
"Remaining active with an amputation is extremely important for rehabilitation and this app is an ideal tool for both existing and new amputees who want to improve their independence and mobility" said, Ken Hurst, Ottobock UK Academy Manager. "The exercises require no workout equipment beyond a cushion or a football and the instructions are simple to follow. Best of all, amputees can take this 'personal trainer' with them anywhere and integrate the exercises into their everyday fitness or therapeutic routine."
The features of Fitness for amputees include;
• Easily configured to match a personal training and/or therapy plan
• Choose between recommended routine or personal selection of exercises
• Workout can be accompanied by user's choice of music on the phone
• User statistics automatically keep track of progress
• Optional alarms prompts users when to exercise
Initially available for iOS devices and in English, Fitness for amputees is now available for downloaded from the App Store here.
---
---